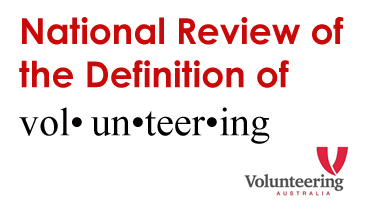 Volunteering Australia is currently reviewing our definition of volunteering to consider the new ways people give their time.The National Review has a significant bearing on decision making by governments, volunteer resource centres and volunteer involving organisations. A revised definition has the potential to influence how volunteers are managed, how volunteering is measured and how Australia maintains and implements best practice standards in the sector.
Click here to check out the Issues Paper and to share your view's on what Volunteering Australia's future definition should be.
For more information see About the National Review.
Be sure to check back to the Volunteering Australia website or join the online conversation on Facebook and Twitter as we post more information on how you can have your say in the National Review of the Definition of Volunteering.