Senator Louise Pratt address to Senate on volunteering and Volunteering Support Services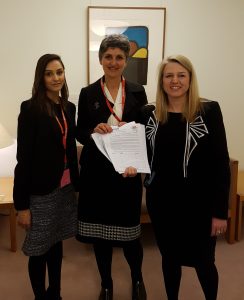 Volunteering Australia was pleased to visit Parliament House in Canberra yesterday, where we had the opportunity to witness Labor Senator for Western Australia Louise Pratt address the Senate on the importance of volunteering. The Senator also acknowledged the vital role that Volunteering Support Services play in our communities, discussing the tower of strength campaign and the petition. You can watch the video below or read the Hansard transcript of the Senator's address (Page 30 and 31) here.
Volunteering Australia's tower of strength petition, campaigning for the retention of designated funding for Volunteering Support Services was tabled in the Senate yesterday 21 June 2017 by Senator Pratt.
We would like to extend our thanks and gratitude to the volunteering sector, Senator Pratt, members of Parliament and the wider community for their support of the campaign.