Brett Williamson OAM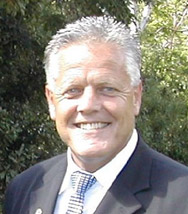 Brett began as Chief Executive Officer of Volunteering Australia (VA) in October 2013. Prior to that, he was CEO of Surf Life Saving Australia (SLSA) for 6 years.
Brett holds tertiary qualifications in the areas of human movement studies (BHMS Ed) from the University of Queensland, in education (B Ed) from the Brisbane College of Advanced Education (Queensland University of Technology) and a Corporate Directors Diploma from the University of New England. Brett was a sport and physical education teacher for several years prior to beginning his professional involvement with Surf Life Saving in 1984, when he started in the dual role of State Development Officer and State Director of Coaching. He moved on to the roles of Deputy Administrator, State Manager and General Manager before being appointed as CEO of Surf Life Saving Queensland in 1991 and CEO of Surf Life Saving Australia in 2006.
As VA's Chief Executive Officer, Brett is primarily responsible for ensuring the effective development, management and sustainability of the organisation and its vital services and outputs.
The unique and diverse nature of VA's operations requires Brett's extensive engagement with government and industry on volunteering and not for profit issues.
He has had articles published in the Medical Journal of Australia and the Australian Journal of Emergency Management and has been a regular presenter at conferences and seminars on topics including Surf Life Saving, association management, risk management, emergency services, sport and visitor/tourist safety.
Brett has been a volunteer member of SLSA for over 40 years after starting his involvement as a 'nipper' in 1967 and is a highly credentialed surf lifesaver from his 20 years of active patrolling service. He has also been a coach, instructor, examiner and filled responsible volunteer positions on Club and Branch committees prior to being employed by SLS. Brett has been awarded an International Training Officer Certificate and a 'Citation of Merit' from the International Life Saving Federation. He is a Life Member of Maroochydore SLSC on the Sunshine Coast and Surf Lifesaving Queensland.
Brett is a former President of the Australian Society of Sports Administrators (Qld Chapter) and has sat on a wide range of State and Commonwealth government and non-government advisory and consultative groups. He is a Fellow member of the Corporate Directors' Association of Australia, the Australian Institute of Management and the Australian Society of Sports Administrators. He also holds membership of several professional associations, including the Australian Marketing Institute (AMI), Australian & New Zealand Sports Law Association (ANZSLA), Corporate Directors Association and the Australian Institute of Emergency Services.
Brett has received the following civil honours:
2004: Order of Australia Medal (OAM)
2003: Australian Centenary Medal
2003: Judges Special Award – EQT Not-For-Profits CEO Awards
2000: Australian Sports Medal
1996: Queensland Father of the Year
1995: Queensland Sport Administrator of the Year