This year Volunteering Australia is celebrating 30 years of National Volunteer Week.
Established in 1989, National Volunteer Week was the first collaborative attempt to promote volunteering nationally. It is the largest celebration of volunteers and volunteerism in Australia and provides an opportunity to highlight the role of volunteers in our community and to say thank you to the more than 6 million Australians who volunteer.
Historically, NVW has focused on recruitment and provided a national focus for volunteer-based organisations wanting to recruit volunteers. However, after extensive research after NVW 2007 saw the focus change to be one of celebrating volunteering and thanking volunteers, with recruitment a natural by-product.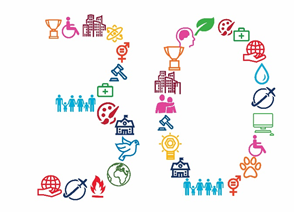 Visit our resources page to download and print the individual icons that represent your sector.
Agriculture and Water Resources

Aged Care

Tourism

Sport

Settlement

Science

Peace

Justice

Education

Emergency Services

Environment and Energy

Relationships and Family

Gender Equality

Health

Industry

Innovation

Disability

Community Welfare

Arts and Communication

Animal Welfare